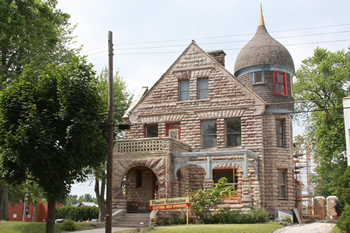 What you should know about your building investment.

Pioneer's craftsmanship can help you decide how to protect your investment and increase the value of the property.

Restoration means Pioneer does brick, block, and stone work, as well as tuck pointing, water-proofing, acid cleaning, sandblasting, and caulking. Pioneer specializes in restoration that few others in the industry are willing to take on, such as steeple work and gold leafing. We have reached the top of courthouses, where a tree is growing, such as the Decatur County Courthouse to the top of the steeple at the Parke County Courthouse. At the Parke County Courthouse all the damaged metal was replaced after the 1989 tornado. The refurbishing of the Maple View Boone County Home and the Central Christian Church are examples of the work of Pioneer Restoration.
CONTINUE...